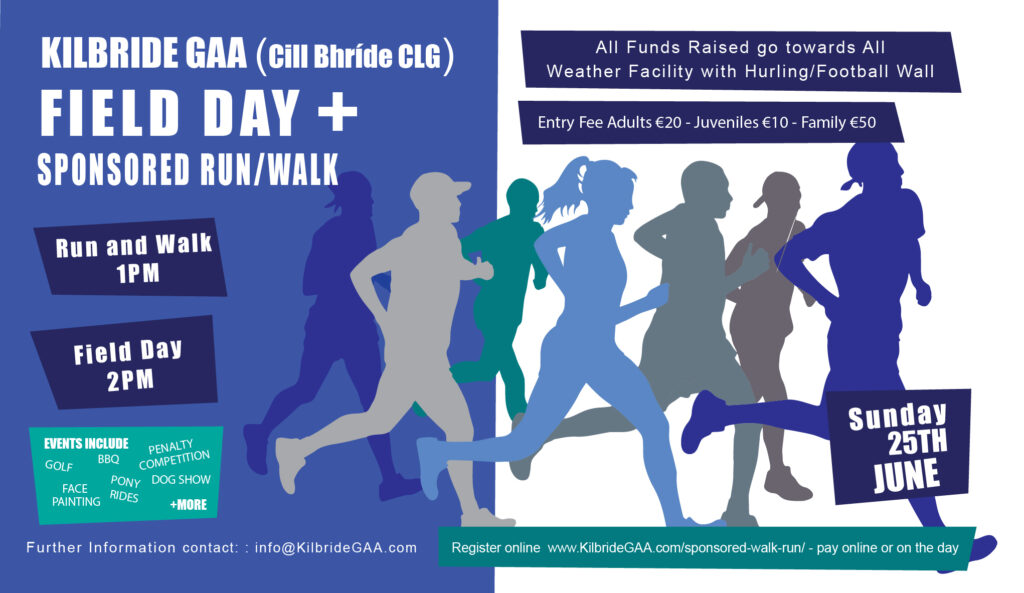 Kilbride GAA (Cill Bhríde CLG) 2023 Sponsored Walk or Run & Field Day – Sunday August 20th
All Proceeds toward All Weather Facility with Hurling/Football Wall
Please find registration details below for our annual sponsored run and walk around Manor Kilbride.  Please complete your registration form below and you will then be taken to the Club Shop, where you can process your payment.
Please find sponsorship cards, below, where you can download and print off.  Or drop down to the pitch and you can pick up a Sponsorship Card or ask any Committee Member.
Download Route/Map & Sponsorship Card
Sponsorship Collected by walkers and runners can be dropped down to the Pitch on the 25th of June.
Enter Your Details Below & Proceed to the Online Shop
Enter your details below and then proceed to the Club Shop where you can pay with your Card or PayPal or you can register today and pay on the day or Revolut to +353871714161 (Save Daniel O'Riordan (Club Treasurer) to your phone and send payment to his number: +353871714161).
Fees are:
Juveniles: €10 Per Child                                 €20 Per Adult                                     Family: €50
Select your Options and Enter your contact details: